According to the U.S. Department of Labor, thousands of workers are subject to eye injuries each year. Many of these injuries result from insufficient eye protection. These injuries can lead to blindness, thousands of dollars in lost productivity and costly medical bills. Both employees and employers have the awareness about benefits of protecting their eyes during work.
Eye protection is a term which is associated with PPE and not less commonly used. Eyeglasses are used to protect workers and customers from the hazards of the job. Safety glasses are essential because many work-related injuries are eye-related.
Safety Glasses Have Many Benefits:
Safety glasses are designed to prevent small particles from entering your eyes.

Safety glasses protect eyes from flames and sparks by being heat resistant

Safety glasses protect your eyes against chemical splashes
Your eyes are protected by the bone structure of your skull. Eyelashes protect you from injuries from small objects. However, eye injuries can still occur if there aren't enough precautions taken. Eye injuries can be serious. It is very painful to get an eye injury that may further lead to complete vision loss. So, safety eyewear is very important to wear during working with equipment that has possible dangers for eyes.
Top 5 Reasons to Wear Safety Glasses:
The main reason of an eye injury is less protection to the eyes of no protection at all while working with such equipment that are dangerous for eyes. Keeping eyes protected at workplace is very important. Most people have no awareness about its importance. You can avoid potential hazards by simply covering your eyes. These are the top five reasons safety glasses should be worn.
Protect Against Foreign Objects or Debris:
Safety glasses are useful to prevent debris and foreign objects from damaging your eyes. The exposure to dangerous chemicals or particles at work can occur anytime. Your vision can be damaged by dangerous work such as construction, welding, maintenance, mining, or other hazardous jobs. Long-lasting damage can be caused by dirt, dust, pollen and wood.
Protect Against Extremely Bright or Unsafe Lights:


Safety glasses can protect your eyes from the dangers of high-intensity light. These lights come in many forms and can be used for daily tasks like driving, welding, torching, lasers and other vehicles. Safety goggles can help you protect yourself from bright light sources.
Preventing Eye Illnesses:
Computer-related jobs often require you to stare at a computer monitor for long periods of time. The computer screen light can lead to eye fatigue and even complete vision loss if there is no protection. Computer Vision Syndrome is one of the most usual causes of eye disease. This can lead to blurred vision and pain in your eyes.
They are Fashion-Friendly Now:
Safety glasses are often avoided by many people because of the limited style options. There are many styles available and many companies will customize frames with your logo. You have the chance to select from bright colors or more subtle tones as per your wish.
Protection against Chemicals and Pesticides:
Your eyes can be exposed to chemicals and pesticides. They can cause inflammation which is a condition where the eye becomes red and swells. Safety glasses are important if you regularly work with chemicals and pesticides. They reduce the chance of you having an allergic reaction.
To protect your eyes, don't rely solely on prescription glasses or sunglasses. Properly designed safety glasses can help you avoid all possible dangers. We invite you to contact us to learn more about safety glasses and how to choose the best pair for you.
Safety Glasses, Are They Style?

Eye protection is vital in many industries because the eye is an important and delicate organ. There are many safety eyewear options on the market, so it begs the question: What qualities are most important in eye PPE?
The primary purpose of safety glasses is to protect the eyes. This may be obvious. Safety eyewear's most important quality is its ability to prevent foreign objects entering the eyes. But that's not always the case. Even if the helmets were fully protective, it would not be practical to issue astronaut helmets in fishbowl designs to employees. They would be worn by people. They would be a hindrance to their work. What would their cost to an eye protection product that is more basic?
Companies with a history of providing safety eyewear to employees are the best source of information when trying to determine which features are most important. Unsurprisingly, comfort was the most important factor at 57%. At 40%, employees can try on eyewear before purchasing to ensure that it fits and feels right.
The product's appearance was also important. 30% highlighted designs for men and women, 27% were concerned about style, and 25% were interested in branding. However, branding interest could be due to brand reputation/quality or style. 29% of companies emphasized pricing.
This survey reveals that choosing eye protection can be more complicated than it may seem. Many companies seem to place comfort and style first, which could explain why employees may not wear the required eye protection.
Where To Get Best Stylish Safety Glasses?
There are many online stores and retailers dealing in eyewear and providing customers with safety eyewear. But most of them have complicated ordering procedures, less warranties and even selling replicas of branded glasses. That's why you have to trust the most accomplished and proficient glasses supplier to buy your required stylish safety glasses. SEG is one of the best glasses store working to fulfill the needs of customers that want eyewear for their workplaces as well as for casual use. From foam padded safety glasses to prescription sunglasses, we have everything available for everyone. You can easily buy eyewear online from SEG without any complicated ordering process. All of the frames available here are 100% authentic and branded. We have strict check on quality and we never compromise on it. You will never get disappointed by the quality of frames you buy here.
Below are Top 10 Best Stylish Safety Glasses
Here are the top 10 best safety glasses having amazing stylish appearance:
The Wiley X Hayden meets the ANSI Z87.1 standard. It is suitable for high-mass impact and high velocity. These glasses offer 100% UV/UVB protection. Wiley X Hayden is the best choice for those who love to dive or play sports. Smokey grey lenses provide glare reduction and no color distortion. To ensure a snug fit, the frame has a spring hinge.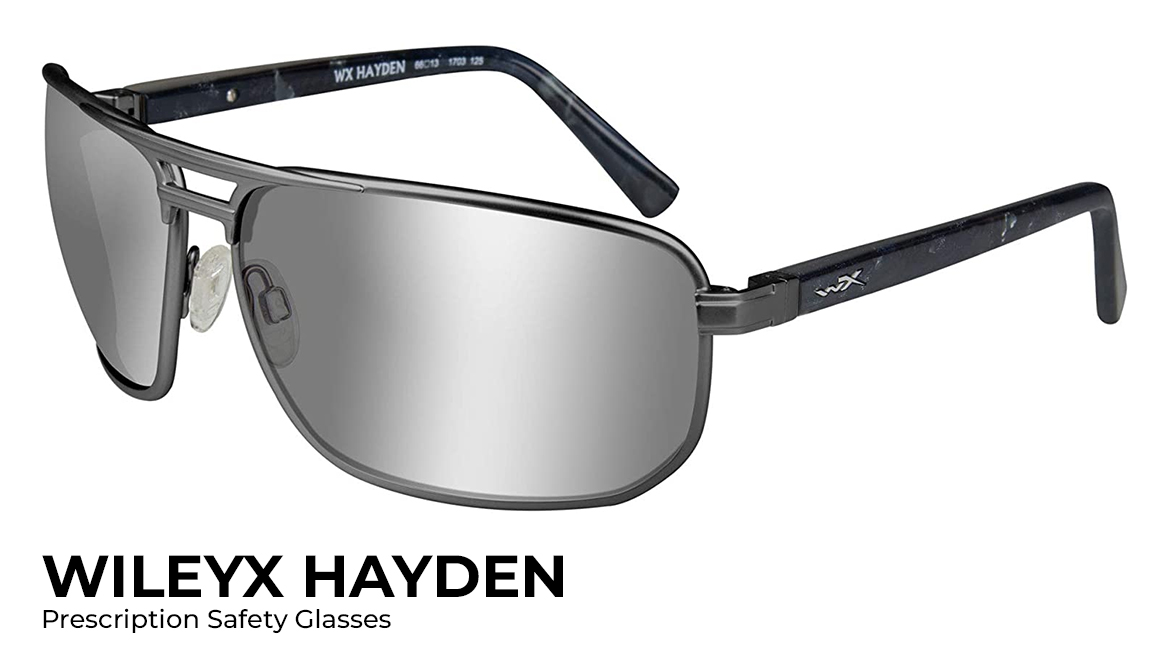 DVX EDGE has shatter-resistant, Selenite-resistant, polycarbonate lenses. They conform to ANSI Z87.1 standards for high-velocity impact and high mass. They are also compliant with the US Federal OSHA 1910.133(b)(1) Standards. They provide 100% UV/UVB protection, protecting eyes from eye diseases and cataracts. DVX EDGE safety Prescription glasses have a T-shell lens coating that increases scratch resistance and makes them more durable. Polarized frames reduce glare, provide protection and have a fashion-forward appearance.

It is the best one for tactile operations.  Made with shatterproof selenite in combination of polycarbonate lenses, these glasses are high-velocity and high-mass impact resistant. The goggles comply with MIL-PRF-32432(GL), ballistic standards, and US Federal OSHA 1910.133(b)(1) Standards. Their lenses offer complete protection against harmful sun rays and a 90-degree warpback that reduce tunnel vision. With high resistant to heat and having a Tri-Glide adjustment system, these glasses provides you a perfect fit and stylish appearance. Wiley X spears can be used with many lenses as well as for night vision and smoky grey lenses. Wiley X spears are scratch-resistant thanks to the T-shell lens coating. This ensures a clear, distortion-free sight.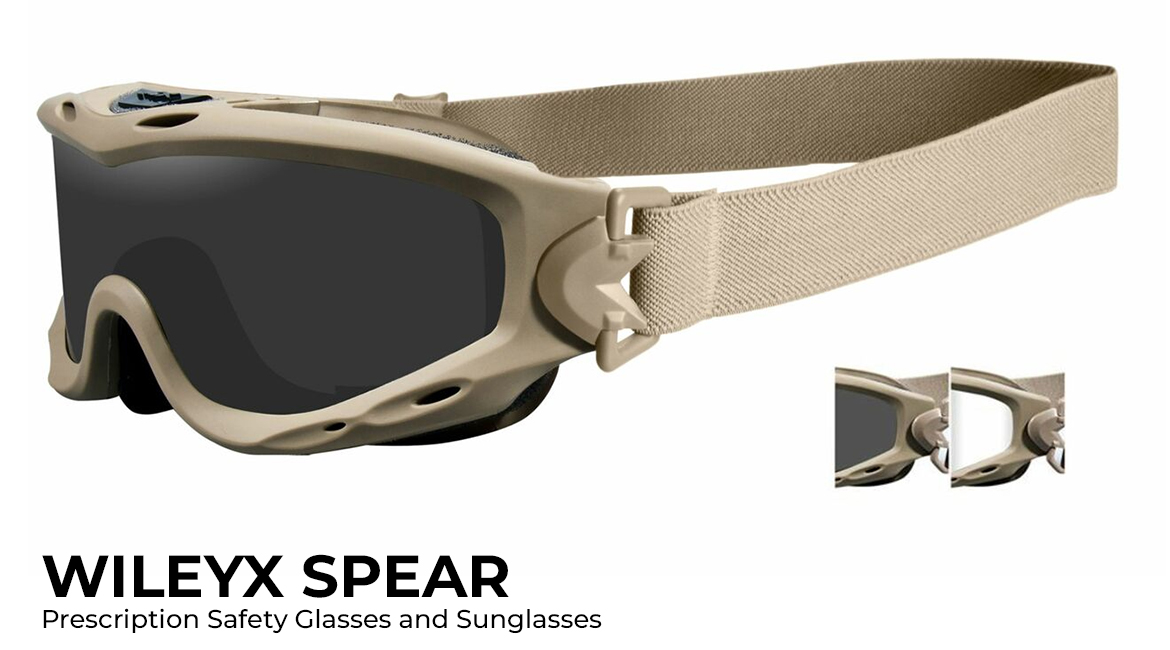 Wiley X Tobi provides the best protection by using Shatterproof Selenite Lenses polycarbonate lenses. These lenses meet the ANSI Z87.1 high velocity and high impact standards. They also comply with the US Federal OSHA 1910.133 (b(1)(1)) Standards. The lenses are scratch-resistant thanks to the T-shell coating. Wiley X Tobi provides maximum protection for those who love style.
To engage in active activities, these glasses have a polarized, silver flash lens. It has a multi-coat Z-Oxide mirror that is overlaid with Smokey lenses. This reduces glare. These glasses are best suited for bright/glare conditions. These glasses can be worn for extended hours thanks to their rubber temples and rubber nose pads.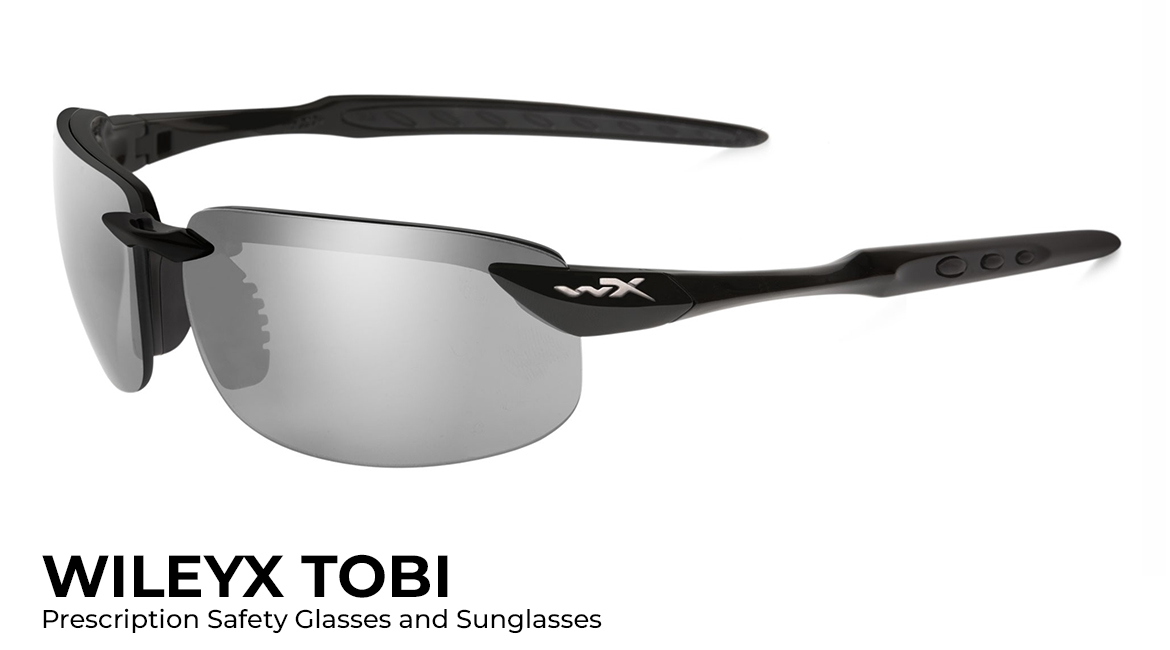 Artcraft frames are stylish and fashionable. The wf970 has wide temples and lightweight plastic acetate designs. These safety glasses have spring hinges that ensure durability and a perfect fit. They are available in two colors to make them stand out. Rectangular lenses have a timeless appeal that you will love. They meet ANSI Z87.2 standards for high-velocity and high-mass impact resistance and CSA Z94.3 protection criteria. Side shields are removable and protect the glasses from dirt, dust, and other irritants in air. These side shields are resistant to scratches and can be used with lens cleaning chemicals. All types of progressive lenses are compatible with the eyewear. ArtCraft wf970 is a striking, lightweight, and durable frame.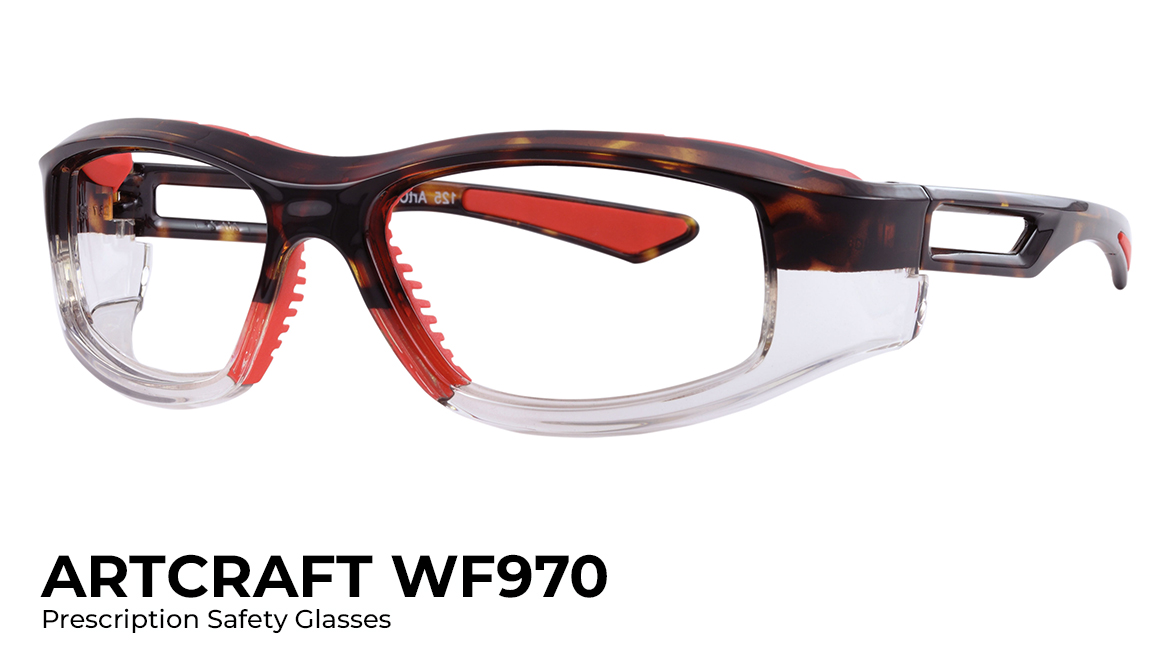 These ArmourX E2505P prescription safety sunglasses are made to enhance your style. These frames are made from stainless steel and are extremely durable. These glasses comply with ANSI Z87.2 safety standards. Comfortable fit thanks to rubber nose pads. These glasses are a fashion statement with their full-rim frames, attractive colors, and variety of pattern combinations.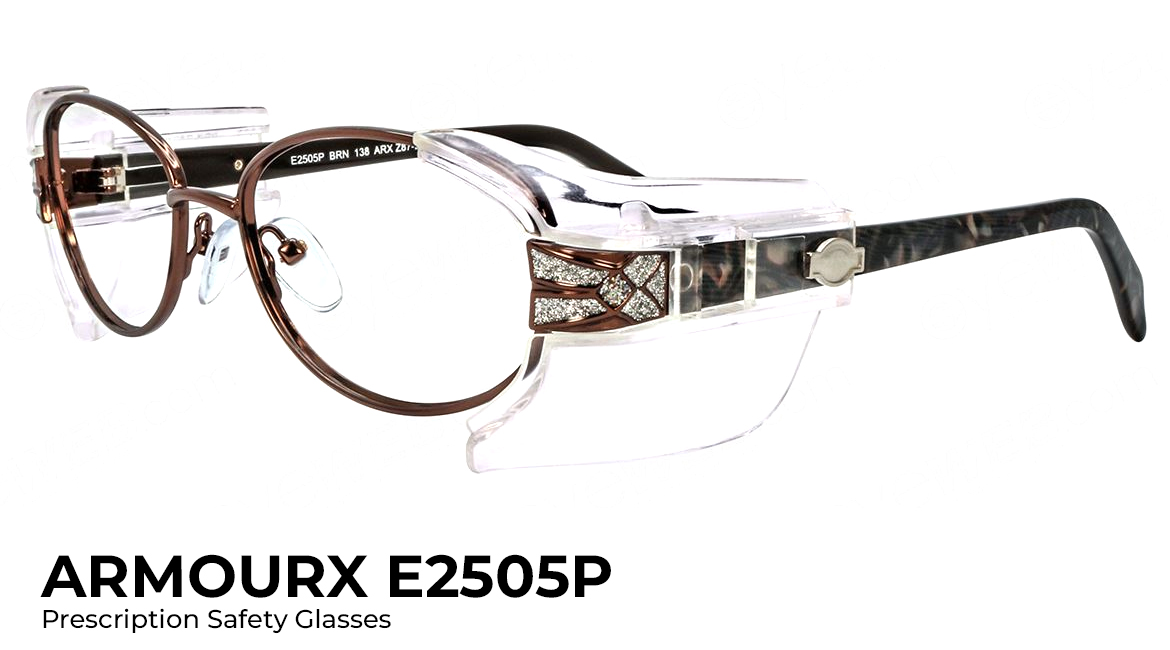 ArtCraft wf973C prescription safety glasses deliver a clean, sophisticated look. The frame wraps around to give it a unique look. These glasses feature a full-rim plastic frame with integrated spring hinges. They also have comfortable nose pads that provide a snug fit and maintain optical alignment. The Artcraft glasses come in 55 sizes. This is a great choice for progressive lenses. Side shields can be removed to protect against dirt and dust. Side shields are resistant to chemicals and impact. These glasses conform to CSA protection criteria and meet ANSI Z87.1 standards for high-mass impact resistance and high-velocity impacts resistance. These glasses are available in 8 colors. These glasses are a great pair of safety glasses that look clean and stylish.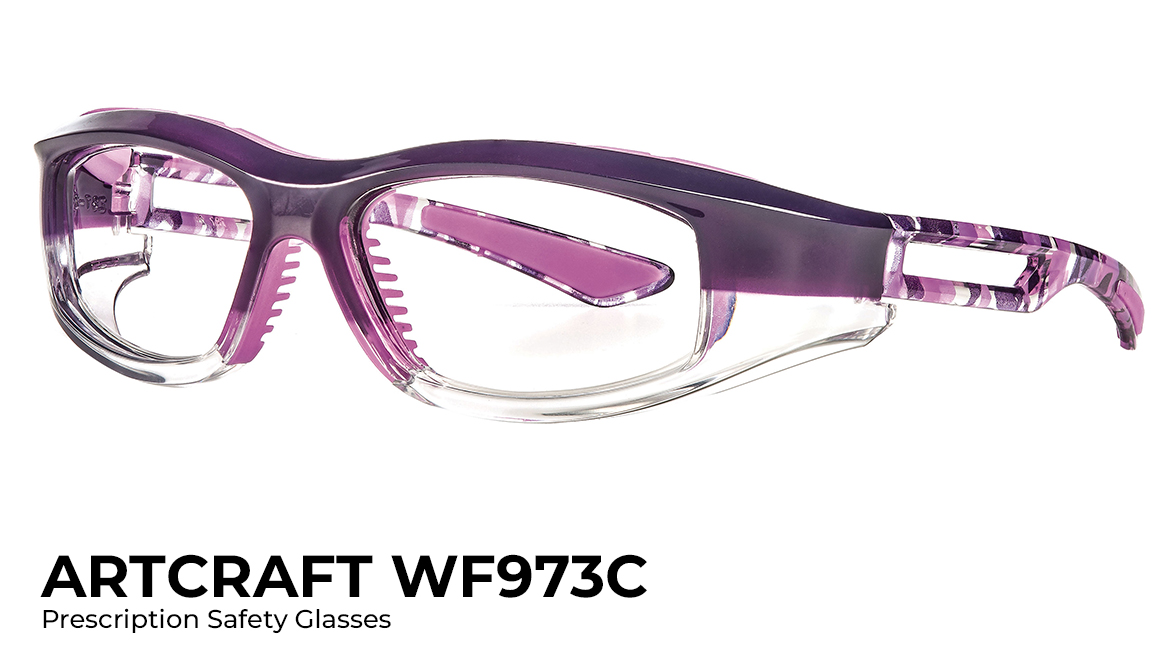 Hudson H6P
This one looks classy and elegant for everyday use. It has plastic frame with single bridge design along with adjustable rubber nose pads for a comfortable fit. Featuring spring hinges with a beveled mounting, it is best for a classy look. This eyewear is durable and lightweight with high impact resistance. It also features a wrap-around design that can be used with all types of progressive lenses. For all-day comfort, the rubber temple tips help reduce pressure. Side shields are removable and can be removed to protect against flying or hazardous materials. They also meet CSA Z94.3 protection criteria. You can choose from matte black, gunmetal or cognac and in different sizes. This is the stylish choice for those who want to keep it simple yet elegant.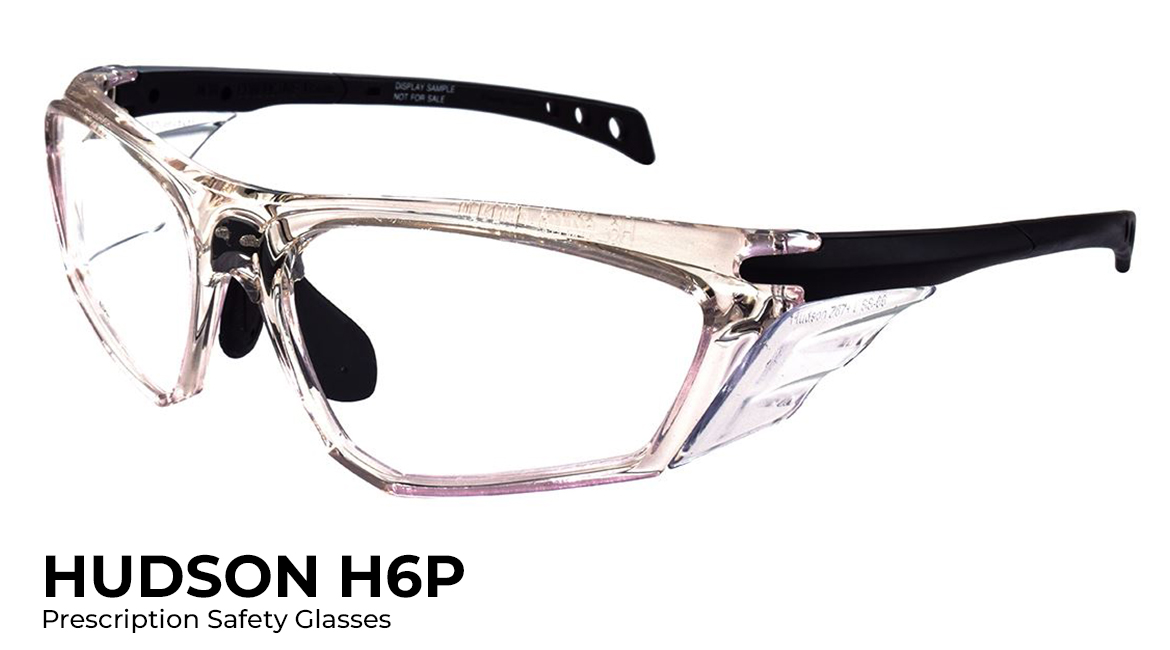 Buy Now
The Onguard 220 safety eyewear is made with acetate plastic. It is durable and very comfortable. The aviator silhouette frame is equipped with rubber nose pads and rubberized temple tips to ensure a comfortable fit. You can pick from a variety of bold colors so that you always look radiant and fresh in everything you do. Side shields can be removed to protect against flying debris. These shields are resistant to chemicals used in lens cleaning and comply with ANSI Z87.1 standards for high-mass impact resistance and CSA protection criteria. You can customize these glasses as per your requirements to fit your prescription, so you can wear them all day. Onguard 220S is a great choice if you like bold colors and fashionable designs.
Safety prescription glasses that have been approved by ANSI feature a wrap-around frame. 3m/Pentax safety glasses are reliable and comfortable. These safety glasses have adjustable straps. These specs meet ANSI safety standards. The glasses can be worn all day because of their curved temples with double-injected temple tips. You also get 100% UV/UVB Protection. The 3m/Pentax F9800 Prescription safety glasses are comfortable and durable.

Final Words
Among all these stylish and best fit glasses, your choice can shake. Therefore, you can talk to the experts at Safety Eye Glasses and make a better choice.