Golf is a sport that has mixed feelings. There are some people who love golf and practice it all the time whereas, some people do not get the concept of playing golf. Either way, one main item that is important when it comes to playing golf is its equipment and sunglasses. Unlike other sports, golf is different and it is played in an area where there are hills and different terrains. Hence, this makes it special and different from the rest like fishing and football.
Numerous of us have seen golfers wearing the most exotic kinds of glasses when they are out in the field. Well, they don't just wear it to look cool but, they have a huge purpose. Golfing is mainly done when the sun is out and it is a bright sunny day. Therefore, one of the main elements is to protect your eyes so that you can see the gold ball correctly. Hence, golf sunglasses play a crucial role in a golfer's life. Some don't even start their turn unless they don't have these glasses on.
Why Paying close Attention to Golf Sunglasses is Crucial 
Before choosing the glasses, there are tons of different things that a golfer needs to consider. Glass is an ordinary element for normal people and they do not look into it a lot. However, for someone who is going to be playing under the sun, it is crucial that they look into it properly. One of the best places where you can buy golf sunglasses is from Safetyeyeglasses. They not only have the same set of glasses but, tons of different ones for you to choose from.
Moreover, while noticing the glass's characteristics, it is also important to look at the design they hold. The design is also important because golfers need to see where the special features are placed and if it suits them the best. Hence, each and every element needs to be carefully checked before a golfer buys them. Therefore, they do not just wear them to look cool while playing but they do so for numerous other reasons.
The Reasons why Golfers need Special Golf Sunglasses 
The different shades and colors of lenses help them see better so that they can perform well while playing. The most important aspect of glasses is to protect your eyes from the harsh sun rays as well. However, there are numerous other reasons why it is important to have them. Golf sunglasses are made specifically for golf. That is because its key characteristics can help you distinguish better fairways and greens. This will then help you in following the ball.
When you look at some golfers, they will not be wearing glasses even when it is sunny outside. The reason for that is because these not only protect the eyes from the sun but also improve vision. There are multiple colored lenses that safetyeyeglasses is offering for golfers to choose from. All of the different colored lenses give a different purpose. Therefore, golfers have to select those color that gives them the best support.

Different Colored Lenses offer Different Elements 
A lens that intakes blue light will help you see green things better. This means that you will be able to see to grass better and also where your ball landed. Therefore, choose a good tint of lenses and see if they work best for you. safetyeyeglasses has a bunch of them that they offer to their customers. Here are some of which you can try.
 Yellow lenses
These level up the polarity of other colors that are used in golf. There is a blue tint given to this color which sharpens the focus so that golfers can easily play. Moreover, this color can also be used outdoors as well as indoors. There are some sessions of golf that take place indoors. Therefore, this can be worn by those that play inside too. This color also enhances their vision and improves clarity which makes them the best for golfers to use.
 Brown and Green Lenses
The main function of both of these colors is to increase the depth perception as well as contrast. Hence, the green grass and blue sky will be seen in the right amount of contrast to follow up with your ball. The green tint in this also enhances the vision. It has a copper base and it also has a 10% light transmission. The brown is mainly used to cut the glare and it has a 12% light transmission. Hence, both of these are good to use when it comes to golfing.
 Grey Lenses
The grey colors are said to be neutral and they do not do much with vision. However, you can always wear a dark grey tinted lens as this will darken everything when you will be exposed to sunlight. It is a good color for everyday activities. Therefore, this will not be your ideal color lens for golfing. It helps during extreme sunlight and it works fine when you wear it indoors.

The Best Material for Lenses
Before rushing out to spend hundreds of dollars on glasses that don't play a specific role, it would be best if you look into the golf sunglasses that safetyeyeglasses is presenting. They are affordable and they also have all the unique characteristics that anyone would want to have in these glasses. The first important thing is the lenses which come in different colors. However, they also come in different materials as well. The best debate by far regarding the material of the glasses is if they should be polycarbonate or not.
The material of the lens should be 100% shatterproof and made of polycarbonate. This is a much stronger lens material and it also is shatterproof. So this has the best protection from normal lenses. Hence, golfers will surely benefit from this because they will protect their eyes the best. Moreover, they need to have 100% UV protection as well. This will give them a clear vision of when they will be golfing on the field. Therefore, apart from the frame, golfers should take a look at the lenses as well.
The best Design for Golf Sunglasses 
There are numerous designs that you can try on from safetyeyeglasses. However, one of the best frames that you can get for your golf sunglasses is the wrap-around design. This will ensure that the glasses are going nowhere when you are golfing. There are numerous glasses that have this feature like the Wileyx Saber Advanced. Hence, safetyeyeglasses has a ton of things to offer its customers. These glasses have all the unique characteristics that you are looking for.
It is not just the design that should matter but, the material as well. Numerous people say that it is best to use a material that is plastic than metal. That is because metal tends to make things a bit more complicated. Therefore, it is best to choose those that have a plastic frame rather than a metal one. This does not mean that you are compromising on quality. Plastic comes in numerous different forms and safetyeyeglasses uses the best source of plastic. Not only that but, safetyeyeglasses has frames in metal as well so that you can pick from the best.
Ensure the Coverage when Buying Golf Sunglasses
You do not want to get those kinds of glasses that do not cover your eyes. That will be of no use then. Therefore, get yourself a good pair of glasses from safetyeyeglasses that offer the best protection and coverage. This will allow you to not just protect your eyes but, also help you protect the area near your eyes as well. Therefore, even though golf is not a harmful sport, there are some things that can happen. Hence, you need to be protected in all aspects so that you are safe.
If you are going to be stocking with full-rim golf sunglasses from safetyeyeglasses, then there will be nothing to worry about because they have frames of all sizes and dimensions. When you visit their website, you will be able to see frames that are full, have coverage, and have no coverage as well. Therefore. There are plenty of options that you can choose from when it comes to getting glasses from safetyeyeglasses.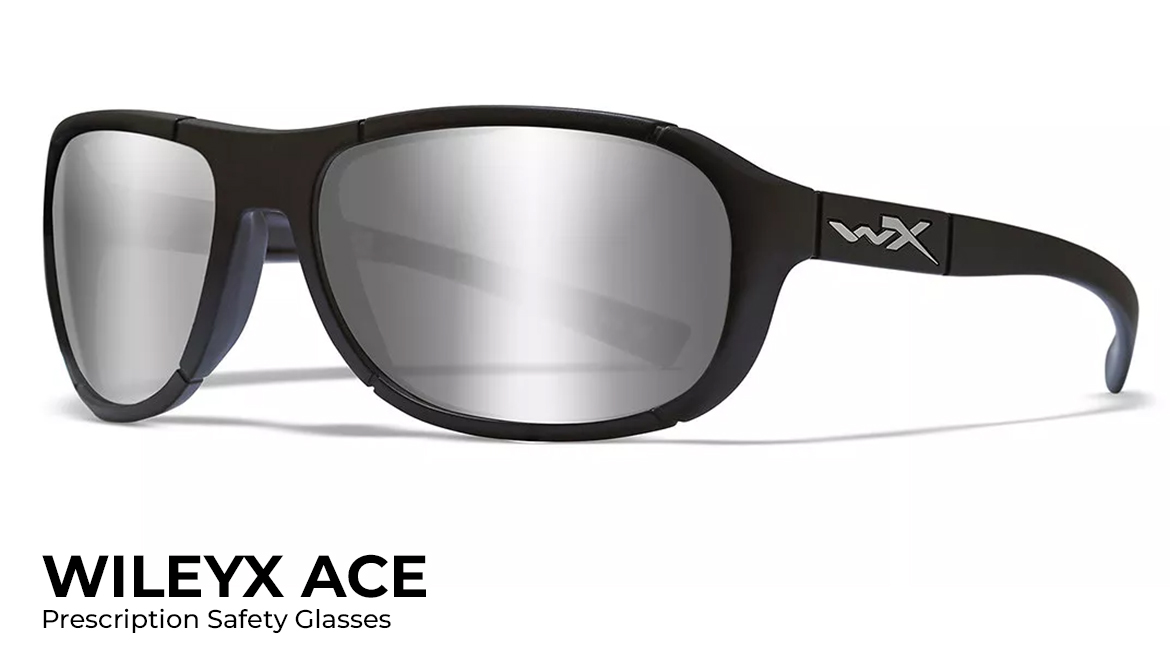 Polarized vs Non-Polarized
Polarized glasses will help cut off the glare from your glasses. A glare usually is produced when the sunlight bounces off from reflective surfaces. However, this might seem like a good thing for people who play golf but it is not. Many golfers will notice that their depth perception is not there when they wear polarized glasses. Therefore, most of the golf sunglasses that you will come across are not polarized.
Therefore, most golfers will not use polarized glasses because they are mainly in need of depth perception. However, safetyeyeglasses has all different kinds of golf sunglasses to choose from and they even keep polarized and non-polarized too. It all depends on what the golfer is comfortable with and what they feel best in.
Bifocal or Progressive Lenses
One of the top questions that are asked when it comes to prescription golf sunglasses is that if golfers should buy them in bifocal or progressive lenses. The answer to this is that it again depends on the player and what they are most comfortable in. some golfers find it hard to wear these glasses due to the reading area of the lens. This gets in their way and it annoys them when they are trying to look at the ball. Hence, this then causes a hindrance in their performance.
If you do not want to create any mess like this then you can always go for vision lenses. Whereas, some other golfers wear bifocal glasses every day when they go out to play. You can always set your lenses to your own preference so that you are playing golf comfortably. You need to ensure that you are at your best comfort level so that you can play a good game of golf.
How to Wear a Cap while Wearing Golf Sunglasses 
There are numerous different types of golf sunglasses and you will need to know about all the different options. If you are new to these glasses then you will need to research the different materials and lenses to make sure you are getting the right one. When playing golf, it is no shock that people sweat. To reduce the heat and make sure the sun is not getting in the way, they wear caps. Sometimes caps can cause a problem when golfers want to wear sunglasses as well.
Therefore, if you want to wear both of them then ensure that the temples of these glasses are curved. The curved temples will not only help you in wearing a cap but, they will also help to hold the glasses where you want to keep them. However, there are also golf sunglasses that do not have a curved temple and are straight. That works best for those who are not wanting to wear a cap during golfing. There are also other sorts of caps that can be worn that do not have a bad interaction.
Protect your Eyes from the Winds
It is no common fact that when playing golf, some winds can brush in. The winds can make the eyes watery and it can also cause the person to blur out their vision as well. Therefore, if you are worried about that then you can always use those glasses that have enclosed eye sockets. You will be able to see these glasses on safetyeyeglasses as well. They are the best when it comes to covering your eyes from all sorts of dust and winds. Hence, the golfer can then easily play focusing on the ball.
Moreover, if you don't want to opt for enclosed eye socket glasses then you can always choose a wrap-around frame. This is a special design given to glasses that wrap around your face which gives the best protection to your eyes. It acts like a suction cup which is best for golfing. You will find numerous different frames of golf sunglasses on safetyeyeglasses and all of them will have different designs and elements. Hence, there is a wide variety of options available for you to choose from.
Ventilation and Sweat Management 
Sweat is a natural thing and when it is a bright sunny day, you will need to cool down. There are some complications that can arise when it comes to dealing with sweat and wearing glasses. There will be some that will keep slipping off every now and then because of the sweat. However, one way to conquer this is by getting glasses that have rubber nose pads. This will help the glasses stay where they are supposed to without slipping off every time.
Moreover, the golf sunglasses of safetyeyeglasses also have ventilation. Hence, there will be continuous airflow that will be in the right amount to ensure that it dries off your sweat. Not only that but they also have a thin inner bottom wire that goes along the temples. This helps drain off the sweat and moisture from the bottom of the frame. Therefore, there are numerous elements that you should keep in mind when you are going to be buying these glasses. safetyeyeglasses has the best collection of golf sunglasses that include all different kinds of features.